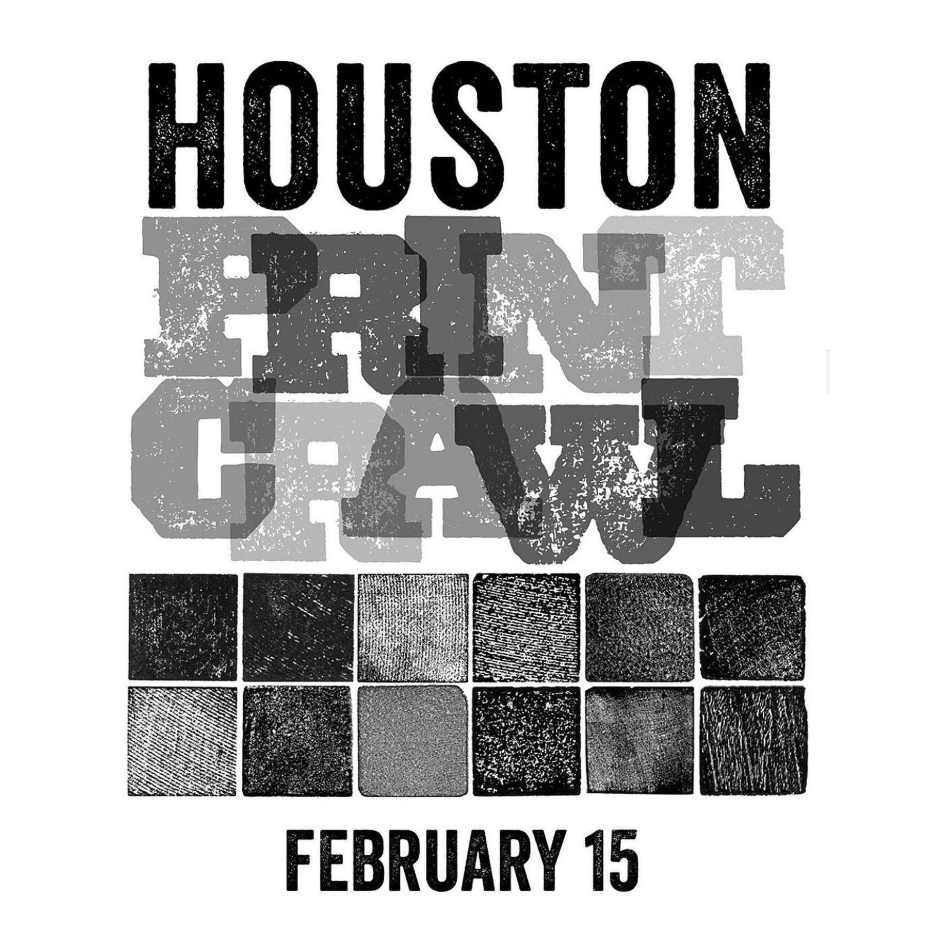 Ten Houston area print studios, including Lady Lazarus, will open their doors to the general public for the inaugural Houston Print Crawl this Saturday February 15th. Attendees will be able to explore the art of contemporary printmaking in its many different forms including screenprinting, relief, intaglio, lithography and more. Participating studios will be hosting exhibitions and tours of their facilities, with some studios performing live printing demonstrations. Included on the tour are Andis Applewhite Studio, Burning Bones Press, Eileen McClellan Studio, The Glassell Print Studio, Lady Lazarus, Magdalene Boltz-Wilson Studio, Moran/Valverde Studio, The Printing Museum, UH School of Art Printmaking Studio, & UH – Clear Lake Printmaking Studio.
The Houston Print Crawl, produced by Burning Bones Press, is an opportunity for collectors wanting to broaden
their knowledge of this diverse medium or for families looking for an artsy day out. Attendees wishing to extend their
Crawl experience can take part in the after-party hosted by the Foundation Room at the House of Blues from 5:30-7:30
p.m. This post-Crawl event will feature drinks, opportunities to mingle with artists and fellow printmaking enthusiasts,
and print prizes generously donated by participating artists.
Houston Print Crawl stops:
Andis Applewhite Studio, 915 Merrill
Burning Bones Press, 1518 Yale
Eileen McLellan Studio, 1243 Arlington
The Glassell Print Studio, 5101 Montrose
Moran/Valverde Studio, 303 E. 11th
Lady Lazarus, 5829 W. Sam Houston Parkway N. Suite 103
Magdalene Boltz-Wilson, 405 Martin
The Printing Museum, 1324 W. Clay
University of Houston, 4188 Elgin, No. 424
University of Houston Clear Lake Print Studio, 2700 Bay Area Blvd.
Houston Print Crawl:
When: Noon-5 p.m. Saturday Feb. 15, 2020
After Party:
House of Blues Foundation Room in downtown Houston, TX (5:30-7:30pm)
Details: Free, visit burningbonespress.com for more details